Hello everyone!
How was your week so far?
Yes I know I've been missing alot. Hectic work schedule
I'm having and also loads of planning for my upcoming
event! Will blog more on that but first as promised,
Two weeks ago, I was in Taipei and I was thinking
hard on what to get for the giveaway! Since my blog is turning
4years old this month, why not get something I love
and share it with everyone which is a feather necklace!
I have an obsession with feathers and hey who doesnt!
So instead I got a multipurpose feather necklace!
U can use it in a few ways!
A necklace
A long necklace if you don't like it short!
This is my favourite.. you can even
us it as a BELT! Yes its long enough to be a belt!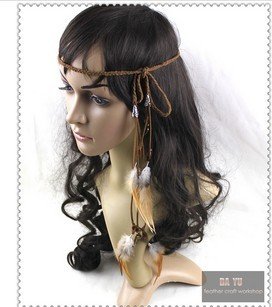 *Image source from Google*
If you're a bohemian type of girl, you can tie it
around your head just like in the picture!
You can also tie it around your wrist as a bracelet!
Sorry couldnt find a photo for it but you can
click
here
to see an example!
(Not a tutorial but just an example how it looks on your wrist)
Want to get your hands on this?
Here's what you have to do :
2) L
eave a comment with your email address,
name,blog URL
on this post
3)
For EXTRA entries you can FOLLOW me on twitter and
TWEET about this giveaway
4) For those who BLOGGED on this giveaway gets another EXTRA entry
(Step 2 + Step 3 + Step 4 = 3 Entries)
**Note that all spammers will be disqualified.**
This giveaway is open to
ALL
my international readers too!
The winner will be announced on the